Blog Archive

Get A Freelancer

When Siri from Siri's Corner announced the A.W.E.D - Middle Eastern cuisine, I immidiately thought about Felafel's and Hummus. Falafel is a chickpea fritter / Pakoda which is usually served with Hummus - which is a sauce or chutney made of chickpeas.

Jai and Bee of Jugalbandi, Shankari of Stream of Consciousness, Manisha of Indian Food Rocks and Garrett of Vanilla Garlic are organizing a fundraiser for Bri of Figs With Bri who has been diagnosed with Breast Cancer. If you would like to contribute please go to any one of their blogs or click on the Chip In Button below.






This is an appeal on behalf of a group of food bloggers who are friends of Briana Brownlow @ Figs With Bri.

Bri was diagnosed with breast cancer two and half years ago. A mastectomy, chemotherapy and two years of relatively good health later, the cancer is back. It has metastasized to other parts of her body. At the age of 15, Bri lost her 41-year old mother to the disease. Now, she's waging her own war against breast cancer. More about it here.

She is going through intensive chemo and other treatments and needs to focus single-mindedly on healing and finding what treatment works best for her. Her health insurance, unfortunately, does not cover holistic alternatives which she would like to try. Bri and her husband Marc have enough on their plates right now in addition to worrying about her medical bills.

The team organising the JUNE edition of CLICK at Jugalbandi has organised a fundraiser to help Bri and her family meet her out-of-pocket medical costs for ONE YEAR.

CLICK is a monthly theme-based photography contest hosted by Jugalbandi. This month's theme is: YELLOW for Bri

Yellow is the colour of hope. Through the work of the LiveStrong Foundation, it has also come to signify the fight against cancer.

The entries can be viewed HERE. The deadline for entries is June 30, 2008. The fundraiser will extend until July 15, 2008.

The target amount is 12,000 U.S. dollars. We appeal to our fellow bloggers and readers to help us achieve this. Bri deserves a chance to explore all options, even if her insurance company thinks otherwise.

There's a raffle with exciting prizes on offer. After viewing the list, you may make your donation HERE or at the Chip-In button on any participating site.

Your donation can be made securely through credit card or Pay Pal and goes directly to Bri's account.

This month's photo contest also has some prizes. Details HERE.

You can support this campaign by donating to the fundraiser, by participating in CLICK: the photo event, and by publicising this campaign.

This is also my contribution to Siri from Siri's Corner and Dhivya from Culinary Bazaar for the A.W.E.D - Middle Eastern cuisine event.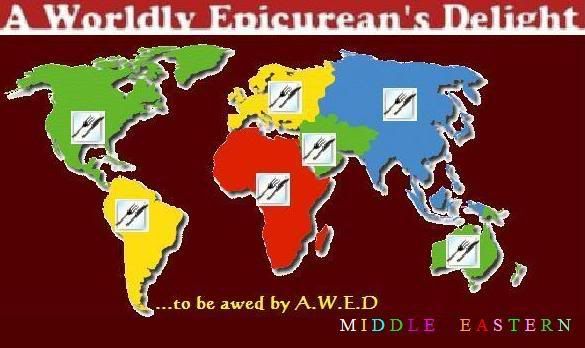 And this also goes to the Monthly Mingle - Appetizers & Hors'Doeuvres event started by Meeta of What's For Lunch Honey? , hosted by Mansi of Fun and Food this month.


Hummus Recipe
This picture is the entry to the Click Photo event hosted by Jai and Bee of Jugalbandi for the month of
June - CLICK YELLOW for Bri
Ingredients
1/2 orange bell pepper or red Bell Pepper ( I used Orange this time to get the yellow color)
1 and 1/2 tablespoons fresh lemon juice
1 and 1/2 tablespoons fresh lime juice ( We like it very tangy you can add as per you liking)
1 tbsp sesame seeds soaked in 1/4 cup water.
1 tbsp oil
1/2 teaspoon freshly ground black pepper
1/4 teaspoon ground cumin
1 and 1/2 cups chick peas, soaked in water overnight or use Canned Chick peas
1 garlic clove
1 green chili
2 tbsp fresh coriander leaves (Optional) - did not use this time.
salt to taste
Method


If using fresh chickpeas, cook them till tender.

Cut bell pepper in half lengthwise, remove seeds and the membranes.

Place one pepper half, skin sides upon a baking sheet lined with aluminium Foil.

Flatten the Bell pepper with hand and drizzle some oil on it.

Broil for 10 minutes or until blackened.

Cool for a while and then peel the skin.

Grind the bell pepper with remaining ingredients in a food processor till smooth

Adjust Seasoning.

Serve with Falafel or use as a dip or have with bread.

Falafel Recipe
Ingredients
1 cup chickpea soaked in water overnight or canned chickpeas
1 tsp coriander seeds
1 tsp cumin seeds
1/2 onion
2 tsp lemon/lime juice
1/2 tsp black pepper powder
1 tsp red chili flakes
1 green chili
2 tsp garlic
1/2 cup fresh coriander leaves
salt to taste
3 tbsp semolina/ suji
1 tsp baking soda.
Method
Grind all the ingredients except Semolina and Baking Soda, till smooth.

Heat a pan and boil the above mixture till all the extra water has evaporated, if it is already dry and binds well together you can skip this step.

Add the baking soda and semolina to the above mix.

Make small balls and flatten them.

Deep fry the felafel's on medium heat till brown.

Serve with Hummus.

About Me
Awards
You Make my Day, thank you Meera
Yummy Blog Award, thank you easycraft
Rocking Girl Blogger, thank you Sashree, Skribles, easycraft and Neha
Inspiration Award, thank you Sashree
Wylde Woman Award, thank you SriLekha
Brilliant Weblog, thank you vani, easycraft and Alka
Blogging Friends Forever, thank you Pallavi
Just Nice Photos - Beautiful Site, thank you Bhawana
2008 Best Blog Darts Thinker, thank you Bhawana
Big Bear Hug, thank you Bhawana

NetworkedBlogs